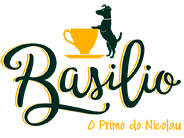 BASÍLIO, the cousin of Nicolau: His stubbornness and courage cut Amazonian savannahs and opened the way for the Holy Grail of Brazil: the coffee.
Basílio, a playful and temperamental entrepreneur became one of the greatest coffee barons of the 19th century and when the coffee cycle grew, the independence of Basílio jumped out and he took a chance in his own farm. He challenged his cousin Nicolau and they prosper together with the export of coffee to all the European capitals. But the homesickness beat strongly and Basílio returned, has become a bohemian and "bon vivant" of Lisbon but always near his cousin.
Address: Rua dos Bacalhoeiros, 111, 1100 - 068 Lisboa
Terms & Conditions
Tolerance - Due to the high number of requests, we appreciate that any delay longer than 15 minutes is reported by telephone as soon as possible. If not, your table will be allocated to another reservation.
Booking Duration - To ensure the best experience, we appreciate that all members of the reservation arrive at the scheduled time, as it may not be possible to postpone the next booking.
Table Assignment - Unfortunately, we cannot guarantee specific tables and seats, however, please leave your comment and our team will do their best to fulfil your requests.
Groups - For groups of more than 10 people please contact us directly via or email.