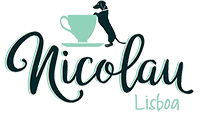 We are told that when he arrived, nor the Lisbon girl and child has resisted him: Nicolau, the proud aristocrat with German blood (but Latin good talking) grew and became a reference of the capital.
The curious and brave "engaging of the downtown" travelled the world (and many Lisbon princesses) but it was from Brazil that he brought the smells and tastes he shares with passion for food to whom enters in his café.
With his chic and very tropical style, Nicolau continues walking through Lisbon, but now their delicious dishes are the delight of those who go there.
Book your table
at Nicolau - Lisboa
Address: Rua de São Nicolau, 17, Baixa 1100-547 Lisboa
RESERVATION
Tolerance - Due to the high number of requests, we appreciate that any delay longer than 15 minutes is reported by telephone as soon as possible. If not, your table will be allocated to another reservation.
Booking Duration - To ensure the best experience, we appreciate that all members of the reservation arrive at the scheduled time, as it may not be possible to postpone the next booking.
Table Assignment - Unfortunately, we cannot guarantee specific tables and seats, however please leave your comment recorded that our teams will do their best to fulfil your requests.